Cook with Passion and Purpose
"Cooking with love provides food for the soul" – Valerie McKeehan
Expertly preparing and serving a delicious meal at home is a remarkable skill. However, applying that same skill to serving dozens of people while maintaining the same quality and consistency is rare.
Whether you are new to the culinary arts or are a seasoned professional, a career with Benton House offers some unique but highly valued benefits.
Be Creative/Grow Your Skills
People are often surprised to learn we serve over 1.5 million meals a year in our communities. And our menus are more varied and specialized than even the most adventurous restaurant.
Add our regular happy hours and special events, toss in larger parties and catering opportunities, and you have enough challenges to pique the interest of even the most demanding chef.
Cook with Passion and Purpose
Our residents dine with us daily, in fact, multiple times a day. And your meals are often the most anticipated (and most appreciated) moments of their day.
Beyond the joy of cooking is the knowledge your work is also critical. Your meals offer opportunities for residents to improve health, maintain fitness, and create connections. In addition, your culinary creations save lives and promote joy daily.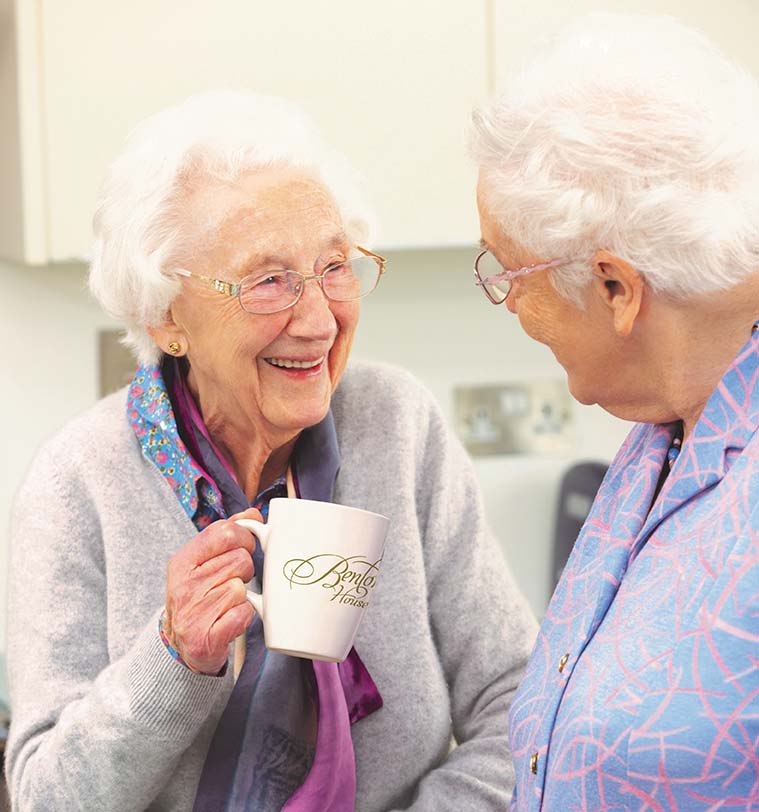 Few opportunities in food service can compete with Benton House regarding work/life balance.
"Home by 2" at our company means 2 p.m., not 2 a.m. And regardless of the start time, you can say "Home by 8." Team members cite the ability to see and spend more time with family as a prime reason for choosing Benton House.
Want to know what it is like as a member of the Benton House family? Click the box below to see the hundreds and hundreds of comments from our team's two most recent year's Great Place to Work surveys. If you find our culture appealing–Join us and help it grow.
Build A Career
The restaurant business can be notoriously risky, and burnout is rampant.
The average tenure of our Food Service Directors is over four years, and our chef/cook tenure is over two years. Food and Dining are just one of our paths to higher leadership.
Our company has served seniors for over 25 years. As a result, we are a stable enterprise and able to offer significant benefits.
So whether you are simply looking to add meaning to your work, advance your skills, or looking for a place to create a culinary career, Benton House is the perfect platform.
Applying is easy. Start now and make Benton House the next chapter in your culinary legacy.
Want to see what makes Benton House, Garden House and Benton Village so special? Follow us on social media and watch videos from members of our team.
Learn More About Your Career Options